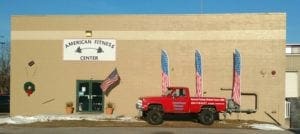 American Fitness Center is a gym located in Nashua, NH and was created with real people in mind, who want to see real results. Designed and built by LOCAL FITNESS EXPERTS and not a big corporation, we took the best parts of individual personal training studios and added small group training, all with the accessibility of a large franchise-type health club. Our goal was to offer the Hudson and Nashua area a fun, affordable and effective gym that was simply not available to them.
American Fitness Center was opened in 2010 by local fitness expert and personal trainer Jason Brennan. After serving in the United States Air Force, Jason returned home in 2003 and made health and fitness his life. Jason has worked in several different fitness environments, including "big box" franchise gyms, health clubs, private personal training studios and in home personal training but felt each of these environments were always missing one aspect or another. Most people are looking to lose weight, increase energy and build functional strength to improve their everyday life. So, whether you're chasing kids, fighting fires, planting flowers or serving in the armed forces, our programs and equipment will keep you healthy, strong and doing the things you love to do.
At American Fitness Center we believe that health and fitness must be a lifestyle, not just a quick fix. Learning the building blocks of proper exercise and nutrition and then finding ways to make them a part of your busy schedule is the only way to finally obtain permanent results. Exercise and healthy food does not have to be boring or miserable and we'll prove that to you! Once you get into your groove at American Fitness Center you will feel the excitement of trying things you always told yourself were impossible!