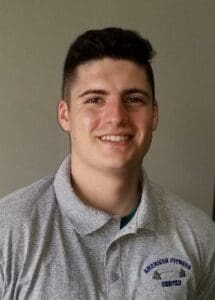 My name is Katie and I am a certified personal trainer here, at AFC. Growing up I maintained my health and fitness by engaging in a multitude of team sports: soccer, softball, volleyball, basketball, field hockey, etc.. You name it, I played it. I later went on to captain the women's soccer team at Hampshire College, making a USCAA National Championship appearance in 2011. I am still an active member of the Hampshire College Athletics Department through coaching pre-season strength and conditioning sessions for both the men's and women's teams.
Although I no longer compete in team sports, health and fitness are still integral parts of my everyday life! Weight lifting and boxing are now my go-to forms of exercise. During times when I'm off of the clock, you have probably caught me hitting the heavy bag or improving my deadlift! When I am not working towards my own fitness goals, I am actively helping my clients achieve their own. I enjoy working with individuals across all fitness levels! Whether you are a novice gym-goer, or a seasoned athlete, each client receives a personalized, progressive fitness program that is created specifically with YOUR health and fitness goals in mind. If you having trouble meeting your own goals, or don't even know where to start, I would love to help!
Fun Facts About Me
-I was the bassist in a Nirvana cover band in High School.
-Tacos are my favorite cheat meal.
-I was featured in a Canadian documentary with "Rocky", my robotic squirrel….
-I am a fish biologist at Nashua National Fish Hatchery.
My name is Kenneth Goddu, but you can call me Kenny. I'm a college graduate from the University of New England, where I got my Bachelor of Science in Nutrition. My future goal is to get my Masters in Applied Nutrition with a Specialty in Obesity Prevention.
As a Personal Trainer at AFC, my goal is to help individuals achieve their health and fitness goals. I've been a Personal Trainer for over a year now and I'm excited to be a part of the AFC family. I look forward to continuing to support people in Southern New Hampshire in reaching their goals. I'm the type of trainer that will push you hard, past what you think you can do and achieve results you didn't think were possible!
My Name is Andy DeVries I have been a personal trainer in the southern New England area for over 20 years. In that time, I have trained numerous clients to reach their goals and help achieve their top performance. From young teens to the elderly, high-performance athletes to the everyday person just wanting to lose a few pounds I have done it all. I enjoy spending time with clients getting to know them in order to build a program that will best fit there specific lifestyle and fitness needs.
Over the years I have completed many certifications including
NFPT(National federation of personal trainers)
ACE (American Council of Exercise)
Expert rated personal training
Apex fitness specialist
Free motion certified
National academy of sports medicine (nutrition)
I also have studied and competed in martial arts for over 30 years including Kenpo Karate, Jui Jitsu, close-quarter Kenpo, and trained MMA.