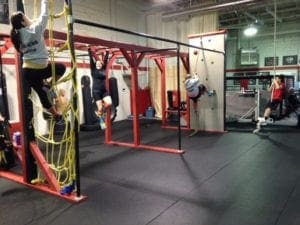 What is OBSTACLE COURSE RACING? It is a sport in which a competitor, traveling on foot, must overcome various physical challenges that are in the form of obstacles.
With events like Tough Mudder, Spartan Race and Warrior Dash you will be part of large groups of people running through various obstacles. Some are more challenging than others, but all will definitely challenge your muscles and test your endurance so you better prepare!
How do you train for one of these races?
Crawling, climbing, pulling, pushing, and running are all components that you're likely to face. At American Fitness Center train as a team or on your own and have access to cargo nets, climbing walls, monkey bars, climbing rope, Jacobs Ladder and all the other functional training equipment needed to get ready for the MUD. At American Fitness Center you also have the advantage of the BEST Personal Trainers around to help you prepare for the big race.